Details
Mission:
Psalm 78:5-7 "For He established a testimony in Jacob, and appointed a law in Israel, which He commanded our fathers, that they should make them known to their children: That the generation to come might know them, even the children which should be born; who should arise and declare them to their children: That they might set their hope in God, and not forget the works of God, but keep His commandments."
The Amwell youth group believes in proclaiming the truths of God's words and His gospel message in order that it would spread and continue from generation to generation. As God's word says we do this that their hope and trust would be in God and not forget His mighty works, especially the cross.
What we do:
The Amwell Church of the Brethren youth group is open for those between the ages of 6-18 years old. We meet on Friday nights at the church, as well as having events every 3rd week of the month.
Our time on Friday nights consists of worship through song, prayer, and the word of God. Amwell proclaims the truth of man's inherent sin nature and God's righteous judgment of hell for all sinners. In accordance with this truth, we minister the Gospel, the good news that Christ Jesus has come to save sinners from God's just wrath. Children learn that man is saved by grace alone, through faith alone, in Christ alone. What man cannot do, save themselves, God did send His own son who lived a perfectly righteous life, to die for man's sin on the cross, and rise from the dead the 3rd day. All those who repent and trust in the Lord Jesus Christ to save them experience the new birth and have the promise of salvation, for the Lord says all those who call upon Him shall be saved.
We hope that you will come on out and worship with us!
Details

Written by

DiSalvio, Pastor Bob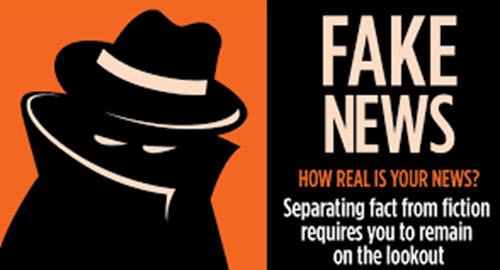 "Fake News" has become the phrase De Jour. It's defined as "accusation, rumors, and accounts for which there is no evidence but which nevertheless are reported as genuine news stories."
When "Fake News" is presented as "Real News", that presentation ruins the lives of the people it targets and distorts the events it reports on!
"Fake News" is undermining our ability to discover the truth concerning the many serious issues of the day.
Eventually "Fake News" reports are revealed for what they are…lies! Those lies are revealed because they can't stand up to the test of time and scrutiny.
In stark contrast, may I submit the "Good News": God came to earth in human form in the person of Jesus Christ—He came with a purpose: to save humanity from the consequences of our sin and death. That purpose brought Jesus to a cross where He was crucified. His death satisfied the steep price God places on unconfessed and unrepented sin. His blood was the agent by which sin is forgiven and for which salvation is bought and paid. His burial was the logical consequence of death by crucifixion. He lay in a borrowed tomb for three days. But, on a bright sunny Sunday morning, followers found the tomb was empty—Jesus had risen from the dead—just as He prophesied!
Good News! For the followers of Jesus Christ, death is no longer our final, fearful destination—Jesus promised and His resurrection proved there is life after death! Jesus said: "I am the resurrection, and the life: he that believeth in me, though he were dead, yet shall he live: and whosoever liveth and believeth in me shall never die." (John 11:25-26 KJV)
Unlike Fake News, this Good News is supported by a lot of evidence— believers, skeptics, critics, and unbelievers have scrutinized the scriptures, historical documents and archaeology for 2000 years and have not been able to discredit or disprove the facts surrounding His resurrection—here are a few examples:
• Fact: Jesus died on a Cross-Roman authorities certified His death.
• Fact: After He rose from the dead, over 500 eyewitnesses attested to having seen Jesus alive!
• Fact: After His crucifixion, His disciples were completely demoralized and afraid for their lives—after the resurrection, having seen Jesus alive again, they became bold and brave communicators of the Good News—who willingly were martyrs in the end. You've heard it said, "People will die for their religious beliefs if they sincerely believe they're true, but people won't die for those beliefs if they know they are false".
• Fact: Before the resurrection, Jesus' own brother didn't believe Jesus was God in the flesh. After the resurrection, he not only believed, but he became the leader of the church in Jerusalem.
• Fact: The first century's greatest persecutor, Saul, became a believer, follower, evangelist and missionary spreading the Good News of Jesus' death and resurrection after he met the resurrected Christ.
• Fact: The tomb of Jesus is Empty!
There is so much more evidence… But I am writing a blog, not a book!
The Gospel of Jesus Christ is not just Good News…it's TRUE news – something the secular world can't seem to find these days!